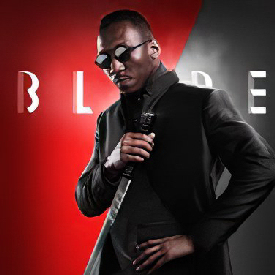 Before I begin the main thrust of this week's column, I'd like to say a few words about the announcement Kevin Feige, President of Marvel Studios, made that Mahershala Ali will star as Blade in the upcoming movie remake/reboot. I'm kind of a minor Wesley Snipes fan; although I don't feel he's a candidate for an Academy Award any time soon, I've enjoyed watching him in any number of action movies, because he takes time, as far as I know, to practice his martial arts, and it shows in the way he moves. Yes, I know he pauses often to pose… after a while it's one of those things you come to expect, but he seems like he would be a bodacious human-vampire hybrid vampire killer if such a thing actually existed. And, although the plotlines are usually really stupid in the Snipes Blades, the last one (which was only 15 years ago) had a stellar cast: Snipes, Jessica Biel, Parker Posey, Ryan Reynolds, Kris Kristofferson, Dominic Purcell, Patton Oswalt, John Michael Higgins—the list goes on and on, and several are—or, like Reynolds, have become—pretty much A-list stars.
Don't get me wrong—I thought Ali was absolutely terrific in Luke Cage as Cottonmouth; I've never seen him in anything else, but his performance made me sit up and take notice—I have nothing against him as an actor, and he will probably be an A-lister soon if he's not already. But does he have that sense of gravitas/menace as a vampire killer that Snipes displays? Well, I wouldn't have thought so until I saw the mockup in Figure 1. And now I'm actually looking forward to seeing what he can do. (I've also heard/read that Snipes himself is being wooed to play Dracula in the film, a role that Dominic Purcell portrayed in Blade: Trinity.)
**NOTE: The next two reviews may contain minor spoilers, as it's nearly impossible to discuss these shows without them!**On the Epix network (gee, remember when there were 3 networks in the US and one in Canada—ABC, CBS, NBC and CBC?) comes a new series called Pennyworth, about Bruce Wayne's butler Alfred Pennyworth before he was Bruce's butler. Now, we comics fans have always known that Batman had to be in an alternate universe; there have been so many versions of Batman—going all the way back to serials in the movies—including the original TV farce starring Adam West. Now we're sure that Batman can be found in multiple alternate universes, and Pennyworth, set in the 1960s before he went to work for Thomas Wayne, is in a whole new one! This ain't your mama's Alfred Pennyworth, let me tell you. And this is not the rockin' mod '60s London of the Beatles and the Rolling Stones, even though the series' pilot begins with an instrumental version of "Paint It Black."
(A warning to the curious, this series is explicitly bloody in many spots.) In this London, the policemen carry automatic weapons. There are two extremist groups vying for control of Britain: the Ravens and the No Names; the Ravens have a Lord Harwood (Jason Flemyng) as its spokesman; they seek a fascist controlling government. They have a raven logo very reminiscent of the Nazi eagle. The No Names have no spokesman, they're somewhat similar to the Antifa movement of today. In this London, the government can put people in cages in the streets, publicly pillory (in old-fashioned stocks) people, and hold public executions aired on national television, where after being hanged, the dead criminal is eviscerated, also publicly. The war is obviously not over; there are barrage balloons overhead, and a TV announcer says that the Reich is considering opening up a certain autonomy for the Netherlands.
Alfred Pennyworth (Jack Bannon) has left the SAS (Special Air Service, equivalent to the US's OAS) at age 26 after ten years in the army; he has a job as a doorman/bouncer at a tony London nightclub. He is saving up to start his own security company. He's accompanied by ex-service mates "Bazza" Bashford (Hainsley Lloyd Bennett), a man with the lilt of the islands in his voice, and "Dave Boy" McDougal (Ryan Fletcher), a proud Scotsman with a wee drinking problem. The SAS group they worked for was fighting in a jungle, rather than Europe (we learn this through flashbacks.) Alfred has an on-again, off-again girlfriend/fiancée, Esme Winikus (Emma Corrin) who works as a dancer but hopes to become a successful actress. Alfred is the kind of security consultant who has a distaste for guns, thanks to his SAS service.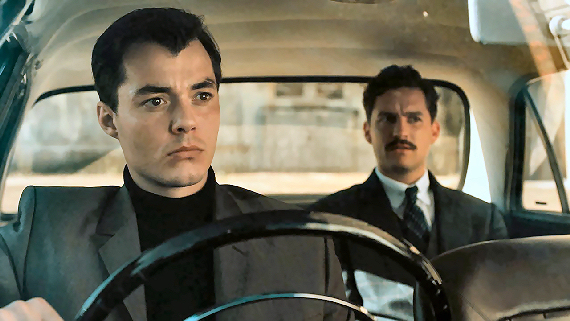 Into this mix comes American Thomas Wayne (Ben Aldridge), who describes himself as an accountant, but who has some kind of connection with the No Name League); Wayne is impressed with Alfred's skills and hopes to hire him, but so far, Alfred isn't impressed with Wayne. Another factor is Martha Kane (Emma Paetz), an American who tells Alfred when she hires him for a single job that she works for the CIA, but may in fact be working for the No Name League. She hires Alfred to help her get a gay man and his computing machine out of the hands of the government and away across the big pond, since the government wants to literally emasculate him for being gay and steal his computer. (Shades of Alan Turing!)
And let's not forget about the man who runs London's East End gangs; a man Alfred runs afoul of when he defends a pub waitress against the gangster's nephew. This gangster's name is John Ripper (Danny Webb). (Yes, this Jack operates out of Whitechapel too. He likes eviscerating opponents—and possibly eating their kidneys à la Hannibal Lecter.) Then there are the sisters, Bet (Paloma Faith) and Peggy (Polly Walker) Sykes. Bet is a sociopathic, sadistic, possibly polyamorous, enforcer for the Raven society. It's obvious that Alfred is not going to be the butler to any Batman we've seen on TV or in the movies, but does that matter?
So far, only four episodes have aired, but despite the blood and violence, the series has intrigued me and managed to keep me watching. An interesting sidelight: after the pilot, every episode is named for a woman (almost all are female British singers except for Julie Christie); episodes 5-10 are named for Shirley Bassey, Cilla Black, Alma Cogan (misspelled as "Coogan"), Sandie Shaw, and Marianne Faithfull.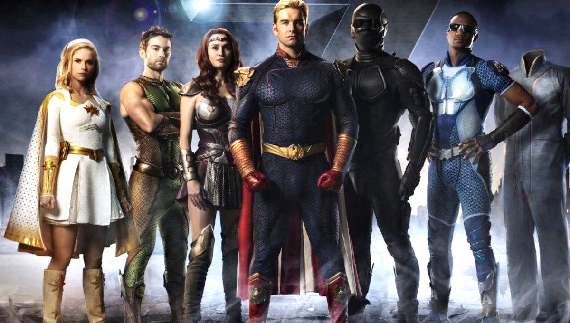 **NOTE: Again, this next review may contain minor spoilers, as it's nearly impossible to discuss these shows without them!**Now we come to The Boys, a series whose first season has already aired on Amazon Prime. This year, the superhero as actual villain has already aired on the big screen in the person of Brightburn; what if the super-powered baby that lands on Earth has no interest in growing up to be the protector of all, and in fact, is a super-powered sociopath? It was an intriguing idea, but for me, wasn't handled too well. But what if, rather than being out-and-out villains, all the Supes (super-powered types) on Earth were just ordinary, flawed human beings with too much power? That's the premise of The Boys. (The Boys is based on a comic book/graphic novel series written by Garth Ennis (who also wrote Preacher), and co-written by Darick Robertson, the illustrator.)
It is approximately present day in this series; there are superheroes among us. All the known superheroes work for the Vought Corporation, which—in the person of Madeline Stilwell (Elizabeth Shue)—watches over them, pays them, promotes them and, in effect, owns them. Other supes (as they are called) are occasionally found among the public and, if they can meet certain standards, are welcomed into the fold. The current crop of approved supes comprises The Seven, who are Homelander (Antony Starr)—the Superman-like leader, at least in power; Queen Maeve (Dominique McElligott) —a Wonder Woman type; A-Train (Jesse T. Usher)—a Flash-alike; the Deep (Chace Crawford)—who's similar to Aquaman; Translucent (Alex Hassell) —who can turn his skin into a diamond-like substance that can warp light around it: Black Noir (Nathan Mitchell) —a masked man whose powers are not yet known to us; and Ezekiel (Sean Benson) —who's like Stretch Armstrong or Reed Richards.
Those are Vought's superheroes; if they were like the Justice League (or even the League of Extraordinary Gentlemen), there'd be no story, but they're not. This is a bunch of arrogant, venial, self-serving asshats who seem to have no problem with causing "collateral damage" to innocent bystanders when they're supposedly doing good. One piece of collateral damage is our protagonist's girlfriend/fiancée, Robin, who is killed (this is no real secret in the first episode) when A-Train runs through her. This puts Hughie Campbell (Jack Quaid) on the side of the vigilantes who are attempting to put a stop to the reign of the supes.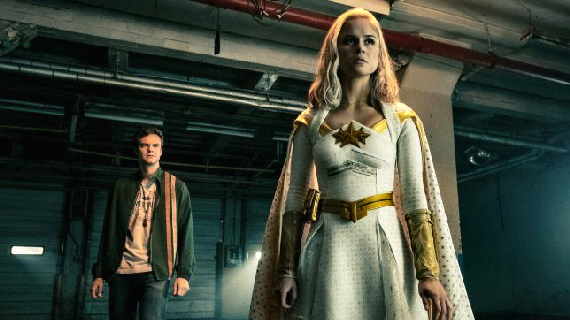 The titular Boys are the anti-super vigilantes, led by Billy Butcher (Karl Urban), who believes the supes are responsible for the disappearance of his wife several years ago, and has vowed to bring them, and the Vought Corporation, down. He recruits Hughie to the group, which includes "Mother's Milk" (Laz Alonzo), who frequently clashes with Frenchie (Tomer Capon), the group's techie who can rig explosives, pick locks, hack computers, you name it. One thing he doesn't do well is follow orders, which enrages "Milk" and makes him threaten to leave the group (besides, Milk's girlfriend doesn't know he's still in the group). Add Simon Pegg as Hughie's father, who's just a normal working man who doesn't know his son has joined the revolutionaries.
Into this mix comes Annie (Erin Moriarty), called Starlight, a young woman with super strength and light-based powers, who has been raised by her mother since childhood to become one of The Seven. This young woman believes with all her heart that supes lives are dedicated to being good and protecting the innocent; this naive upbringing conflicts with what she finds when she actually becomes one of the Seven, and she is lied to and preyed upon by a junior member of the team. While reeling from this betrayal and not in costume, she meets Hughie, who is still reeling from his loss and has no idea she is a supe. What a recipe for conflict! Be warned, however, that the series is extremely violent, with a number of graphic depictions of injury and death. Recommended for the stout-hearted.  (Editor's note:  there are also depictions of graphic sex and nudity, if that bothers you more than violence.)
**SHORT TAKES**How many of you have read Martha Wells' "Murderbot Diaries" beginning with Condition Red in 2017? Well, if you haven't, you should; they're great fun and pure SF. The other day I discovered what I think is the first use of the term "murderbot"—in the 2015 movie Avengers: Age of Ultron, where someone is defending (I think) The Vision, and says something like "He's not [or not just] a murderbot." I found that interesting.
And, I read today that, thanks to the success of such franchises as The Avengers, Universal plans to reboot its entire series of classic monster movies. People, people—doesn't anyone remember the absolute disaster that was The Wolfman (2010), with Anthony Hopkins and Benicio del Toro? If you don't, Universal peeps, go watch it again! 'Nuff said.
Comments on my column are welcome. You can register and comment here, or on my Facebook page, or in the Facebook I link to. All your comments, good or bad, positive or negative, are welcome! (Just keep it polite, okay?) My opinion is, as always, my own, and doesn't necessarily reflect the views of Amazing Stories or its owner, editor, publisher or other columnists. See you next time!