Welcome back! I have a bit of a hodge-podge for you today. The interview with Bruce Boston has been postponed for two weeks – life got in the way for both me and Bruce. But I promise you won't be disappointed. Bruce Boston is a thoughtful interviewee and we get glimpses in his life as a poet and the workings of his mind. For this post, I decided I'd like to take the opportunity to respond to a post which appeared a couple of weeks ago and to plug some collections/anthologies, which I was only able to review or showcase on my own blog and on Poetry Planet.
One of the other staff bloggers here at Amazing Stories, Paul Cook, recently wrote an article entitled Why Science Fiction Poetry is Embarrassingly Bad. Naturally, just the title was enough to draw attention to the article among SF poets and authors alike and many of them replied trying to draw out a less blanket criticism from him or at least criticism which made better parallels.
Needless to say, I disagree with Mr. Cook. The thing is, I don't really feel I have the expertise nor the requisite experience in the field with which to refute his claims with well-reasoned arguments. Also, he is quite right in saying that there IS bad SF poetry out there. And I agree with him on that. I've read quite a bit of it, but mostly at websites where people can post their attempts at poetry and if they tagged it as Science Fiction Poetry, then Google sends me an alert. I also read quite a few bad SF poems when I coordinated the SFPA's poetry contest in 2012. However, most SF poetry that actually gets published, especially published in a magazine or journal specializing in SF poetry, isn't, nay, can't be truly bad. And certainly not embarrassingly so. A lot of it is far from amazing and often leaves me cold, but I can't tell you how often I've read a poem, which struck a chord in me. Made me think, or think, "Huh!". Made me smile. Which had a gorgeous turn of phrase or a twist which caught me unawares. Not to mention that there is so much wonder in SF poetry and that's why I like Science Fiction so much. The wonder and awe. And the playfulness.
There's so much more to SF poetry or even other types of poetry than what Mr. Cook thinks constitutes "real" poetry. And it seems quite obvious that Mr. Cook hasn't read, and maybe isn't even interested in reading SF poetry which fits his criteria for this "real" poetry, which is quite specific and, in my humble opinion not the only definition of what poetry should be. It's out there and many of the responses to his article directed his attention to venues where he will find it. However, the longer the conversation goes on over there (in the comment section of his article), the more I think we should all just leave him to his SF poetry ghetto and move on.
And now I will.
I've recently read and/or supported some interesting collections that I want to introduce you to:
A Woman of Mars, by Helen Patrice
I won this slim volume in a little contest the author held on her Author Page at FaceBook.
It's a gorgeous, slim hard cover. Brick red, fitting to the setting with wonderful artwork (pencil drawings) by Bob Eggleston. It's a limited, signed (by both author and artist) edition – mine is number 225/300, so there aren't many left!
It's highly readable. Non of the poems are epic in length and so it's possible to read them several times in one sitting, without getting overwhelmed. The poems tell a story and the over-arching narrative is quite compelling. In the space of just a few poems you come to care about this woman and really want to know what happens to her.  That said, despite the woman's love for Mars, there is an underlying sadness or melancholy, perhaps stemming from the hardship of leaving home and the hardship of being the first colonists on Mars, which permeates the volume. Not uplifting, but moving.  You can find the collection at PSPublishing
Cthulhu Haiku, and other Mythos Madness – Poems and Stories, was a project by Lester Smith of Popcorn Press that I supported on Kickstarter. This was the 4th volume of poetry produced in time for Halloween. I haven't read the whole thing yet, but what I have is wonderfully fun, creepy, horrific – all of it! It contains flash fiction and poetry (lots of dwarf length poetry, as well) by Ann K. Schwader, Geoffrey A. Landis, F.J. Bergmann, Robert Borski, David Kopaska-Merkel and many others. And you don't have to be well-versed in the Lovecraftian Mythos to enjoy it. Although, I suspect it adds more depth to the experience. It is 126 pages long and costs $9.95.
I most recently backed a campaign by Joanne Merriam of Upper Rubber Boot Books, which is a small press which "publishes literary and speculative poetry and fiction from (metaphorically) remote places in ebook format". They have published an anthology of poetry and fiction called Apocalypse Now – Poems and Prose from the End of Days edited by Andrew McFadyen-Ketchum and Alexander Lumans. They are also going to produce 250 actual dead-tree copies of this book. It includes poetry and fiction by the likes of Paolo Baciogalupi, Joyce Carol Oates and Margaret Atwood. I will review this at a later date, when I've had a chance to read the whole thing. It starts with a bang, though. The first short story The Adjudicator, by Brian Evenson is stark and bleak in a post-apocalyptic, terrifyingly realistic world with just enough strangeness to keep you wondering. I can't wait to read more of this book. Dystopia and apocalyptic fiction are among my favorite sub-genres. It comes in at 332 pages and the print edition costs about $16.00, the Kindle version $10.57
The Moment of Change, edited by Rose Lemberg – Aqueduct Press
This is an Anthology of Feminist Speculative Poetry and with a subtitle like that seems quite specific, but you should know that Rose Lemberg is also the editor of Stone Telling, one of the 'net's premier venues for speculative poetry showcasing and investigating difference – The Other. The poets (including many whose names even those who don't know the field's population will recognize) come from all walks of life and from all over the world and include all genders and gender identification. The poems themselves could be classified under a plethora of sub-genres. This collection represents Diversity. The poems (those that I've read) are mysterious and moving. And I will come back to this anthology at a later date. In the meantime, go get it! You won't be disappointed. 172 pages, the paperback edition is available at Aqueduct Press and Amazon.com for $20 and the Kindle version is $11.12 .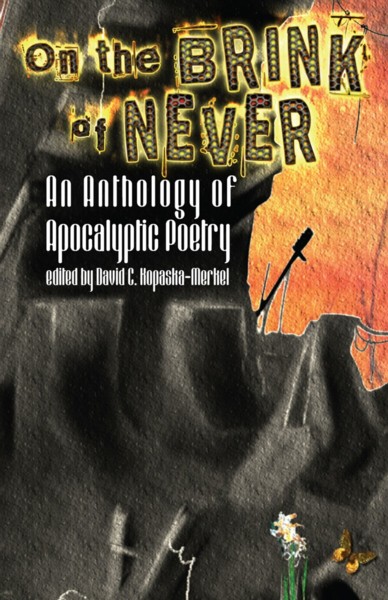 And lastly, a full review: On the Brink of Never, compiled by David C. Kopaska-Merkel of Dreams & Nightmares, is a collection of apocalyptic poetry written by various authors: Kopaska-Merkel himself, Jennifer Schwabach, Jaime Lee Moyer, Marcie Lynn Tentchoff, Terrie Leigh Relf, Marsheila Rockwell and Samantha Henderson.
Do you have any idea how many ways the "world" can end or when? And what happens afterwards? These questions are explored in this slim volume and each poem brings a little surprise. This is the blurb:
The ancient Maya had a rich mythology. Their religious beliefs included the notion that the world would end on December 21, 2012. For reasons best known to themselves, hordes of modern folk have converted to this ancient religion. If belief sustains the existence of gods, as some have suggested, then perhaps it also sustains the validity of prophecy. I hope not. Because if belief alone can make prophecy real, millions and millions of lapsed Abrahamic religionists may have doomed the rest of us to extinction along with themselves. Nice going guys! In a spirit of hopelessness and despair, engendered by the realization that a boatload of gullible fools are taking us with them into oblivion, we offer the following tribute. I don't know what day you bought this book, but just in case: read fast!
~ David C. Kopaska-Merkel, Terra, Year N-2
The authors form a group, encouraged by Mikal Trimm (strangely absent among those represented in the collection), called the Hitting the Muse group. As explained in the Foreword, they encourage one another to write and give critique to hone their craft. Most of the poems collected are a direct result of this fellowship.
Gathered within is an apocalyptic lullaby, a love testament, the sun personified, the olympic gods, quite realistic blame laying, zombies, remembering what's important, extinction on another planet, death by comet, post-apocalyptic life and much, much more.
Some favorites include "Fate" by Jaime Lee Moyer, "The Sun God Bids
Farewell to His Lover" and "When the Comet Came" by Marsheila Rockwell, naturally "The Sign Read: Post-Apocalyptic Choir Seeking New Members" by Terrie Leigh Relf, "Spring" by Jennifer Schwabach, David C. Kopaska-Merkel's "Keepin' On" and "A Wink Of The
Further Eye", and Marcie Lynn Tentchoff's "Remembrance Day".
There are serious poems and touching poems, poems to ponder and poems to chuckle over (amazingly), so there is something for everyone, I dare say.
You can purchase a hard copy of On the Brink of Never at Sam's Dot Publications for $7.50 and at Smashwords for $2.99 in ebook formats.
I'll be blogging again next week – a little essay about my affiliation with StarShipSofa.
Please take a moment to support Amazing Stories with a one-time or recurring donation via Patreon. We rely on donations to keep the site going, and we need your financial support to continue quality coverage of the science fiction, fantasy, and horror genres as well as supply free stories weekly for your reading pleasure.
https://www.patreon.com/amazingstoriesmag