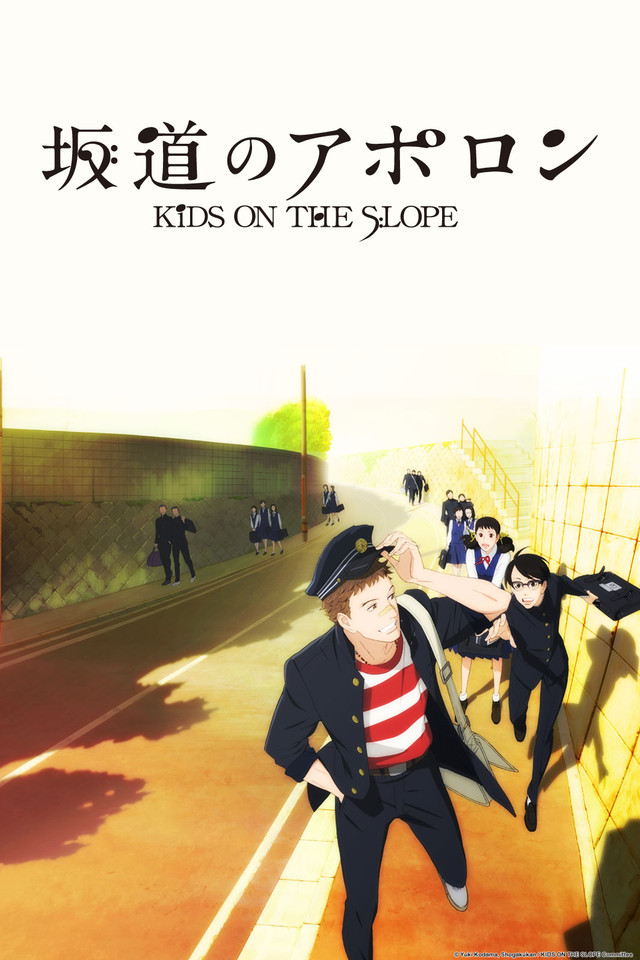 Even casual fans of anime have heard of Cowboy Bebop, the jazziest, classiest, most sophisticated space opera anime to ever be created (whoops, my bias is showing).  Bebop's director, Shinichiro Watanabe, and musical composter, Yoko Kanno, teamed up once again in 2012 to work on Kids on the Slope, the anime adaptation of Yuki Kodama's manga series (originally titled Sakamichi no Apollon, or Apollo on the Slope).
I think it's fair to say that with a dream duo like Watanabe and Kanno on the project, a lot was expected of this anime.  I know that I, for one, was really hopeful for another grown-up show with a killer soundtrack – especially since the show's central theme is jazz music in Japan in 1966.
The story centers on Kaoru Nishimi, a smart young man who has moved from a city in southern Honshu to a remote town in Kyushu (for those of you unfamiliar with Japanese geography, Honshu is the largest, central island, and Kyushu is the southernmost island).  The series gets its title from the steep slope that Kaoru has to climb every morning to get to his new high school – a school that he is utterly unenthusiastic about attending.  Like so many young protagonists, Kaoru is not great at making new friends and is entirely pessimistic about the situation.
Through random happenstance, he meets the other two central characters in the story: Ritsuko Mukae and Sentaro Kawabuchi.  Kawabuchi's habit of drumming jazz tunes on every surface attracts Kaoru's attention; he plays classical piano, but has never tried anything as free as jazz.  He is convinced, in short order, to jam with Sentaro in the basement of Ritsuko's father's record shop.
I don't want to give away too much of the story, especially seeing as the series is only twelve episodes long.  Suffice to say that the drama of teenage love triangles is definitely a major plot point, causing the actual jazz music to take a bit of a back seat.  In fact, neither the opening nor the closing credits are accompanied by jazz, which left me a little baffled.  The fact that the story was set at a very politically tumultuous time in Japanese history was only alluded to very barely; the action could have easily been set in modern Japan (though my music-major fiance has assured me that the music sets it very definitively in the 60s – but he's a nerd).  I imagine that the time period is more relevant in the manga, though I cannot say for certain, as I have not yet had the opportunity to read it.
I honestly felt as though Kids on the Slope had too much interpersonal drama to be only twelve episodes long.  I probably wouldn't mind the love story if equal attention had been given to the characters' histories, home lives, and motives – and, of course, if the music could have really taken a front seat.  The animation is really quite stunning, especially in regards to the few musical sequences; I have the sneaking suspicion that the artists worked directly off of a video of an actual drummer for Sentaro's close-up jamming scenes.
While the show is certainly worth a watch (and is so short that I watched it in a weekend), I would caution readers against going into it expecting a follow-up to Cowboy Bebop (though like Bebop, every episode title makes reference to music – in this case, to jazz standards).  It is beautifully animated and the music is lots of fun.  But at its heart, this was a series intended for a younger, primarily female, audience who wants to become involved in the emotional drama of the characters, and it lacks the sophistication – both in its plot and in its musical score – that Bebop has in spades.
Please take a moment to support Amazing Stories with a one-time or recurring donation via Patreon. We rely on donations to keep the site going, and we need your financial support to continue quality coverage of the science fiction, fantasy, and horror genres as well as supply free stories weekly for your reading pleasure.
https://www.patreon.com/amazingstoriesmag