This list of children's books about inventors is sponsored by The Hive by Barry Lyga and Morgan Baden from KCP Loft.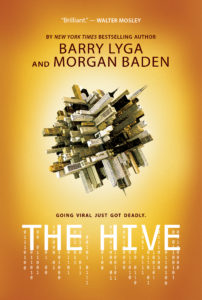 New York Times bestselling authors Barry Lyga and Morgan Baden have teamed up for the first time to create a novel that's gripping, terrifying and more relevant every day. The Hive follows seventeen-year-old Cassie, who, after being "condemned" on social media, is on the run from a deadly state-sanctioned mob seeking to exact IRL punishment. Aided by a shadowy underground network, Cassie becomes an unlikely heroine, as her search for the truth makes her a threat to the entire unjust system. The Hive is a breathless race through the day after tomorrow, where online and real life are blurred beyond recognition, and social media casts ever-darker shadows.
---
Remember being a kid and finding out that someone invented basically everything? The chair in your dining room. The phone your parents talked on. Even the fire in your fire place. Those all had to be invented. Amazing!  With a new focus on technology and STEM education, there are more and more books being written for kids to inspire young creators. There are books about real inventors from history and books that portray relatable fictional inventors. From robots to mathematicians and coders to engineers, these 10 inventor kids books will challenge children's imaginations and inspire new ideas that might even change the world.
Norton and Alpha by Kristyna Litten
Norton is a robot who creates inventions with his robotic dog Alpha. Every day they scavenge around the junkyard for mechanical parts to turn into new inventions. Norton is a master of figuring out a new purpose for each discarded part. But one day, Alpha finds a red and green thing growing in the ground. And Norton cannot figure out its purpose. Readers will delight in recognizing the flower before Norton figures it out. The book also serves as a gentle reminder of the importance of nature in a tech driven world.
The Junkyard Wonders by Patricia Polacco
In this illustrated book for older children, Patricia Polacco tells a true story from her childhood. Young Tricia is upset and embarrassed when she is assigned to the "special" classroom at her new school, known to everyone as The Junkyard. But with the guidance of an amazing teacher, Tricia and her classmates collect scraps from a local junkyard and create amazing inventions together.
Hidden Figures: The True Story of Four Black Women and the Space Race by Margot Lee Shetterly & Winifred Conkling, Illustrated by Laura Freeman
This picture book version of Hidden Figures introduces kids to Dorothy Vaughn, Mary Jackson, Katherine Johnson, and Christine Darden: four Black women who worked as mathematicians for NASA. These women didn't all invent new machines, but they helped do the computations and create the math to put a man into space. Besides touching on the racism and sexism these mathematicians and engineer encountered at work, the book includes a timeline of inventions leading up to rocketry. An inspiring story of overcoming struggle, leaning in to your talents, and looking ahead to new possibilities—like getting a man on the moon!
Marvelous Mattie: How Margaret E. Knight Became an Inventor by Emily Arnold McCully
Many children (and adults!) have never heard of Margaret Night. But she was a prolific inventor and the first woman in the United States to receive a patent. In fact, her design for a machine to make flat-bottomed paper bags is still in use today. The story focuses on Mattie's young life, creating kites and sleds that are faster than those of any of the boys she knows. After witnessing an accident while working at a factory, she began to think of ways to make the machines around her safer. Despite being only 12, the manager agreed to make some of her changes. And thus her career as an inventor was born.
Rosie Revere, Engineer by Andrea Beaty, Illustrated by David Roberts
Some people think Rosie is quiet and shy, because she doesn't talk much during the day. But that's just because she's dreaming up inventions to create at night and imagining her future as a successful engineer. When her great aunt comes to visit, Rosie sets a big goal: creating a flying machine. She tries hard, but feels bad when her invention doesn't work as intended. But eventually she learns that "The only true failure can come if you quit." Onto the next gadget or gizmo for Rosie! The charming rhymes and inspiring message, make it clear why this book has already become a classic of our time.
So You Want to Be an Inventor? by Judith St. George, Illustrated by David Small
This nonfiction picture book provides an overview of many famous inventors while encouraging readers to think up creations of their own. The author profiles famous inventors like Ben Franklin and Thomas Edison, and also mostly unknown ones like Wilhelm Roentgen, who invented x-rays. In doing so, the author explores the many different ways inventions are made. And with step by step advice for becoming an inventor, it's easy to see how inspiring this inventor kids book can be for young makers.
Mistakes That Worked: 40 Familiar Inventions & How They Came to Be by Charlotte Foltz Jones, Illustrated by John O'Brien
This book was a favorite of mine and my sister growing up. It looks at 40 inventions that began as mistakes, such as silly putty, sandwiches, and even potato chips! A great reminder not to sweat mistakes, and to constantly pay attention. With hilarious anecdotes and quotations from famous inventors. At 96 pages, this is appropriate for more advanced readers to read together over a period of time.
Brobot by James Foley
In this graphic novel for young people, Sally—known as "the world's foremost inventor under the age of twelve"—decides to invent a better version of a brother. She wants a sibling who's more cooperative and less smelly. At first everything is going great with Brobot, but Sally eventually learns that machines can't replace people. Especially not when things happen that they aren't programmed to respond to.
Girls Who Code: Learn to Code and Change the World by Reshma Saujani
Appropriate for ages 9 and up, this book provides introductory info on coding principles, activities for kids to try at home, and stories of real life girls who've invented things using code. With pictures on every page, this is a great resource for kids of any gender and for kids of all different comfort levels with technology.
Some kids prefer doing to reading. In this book, Andrew Rae includes drawings of weird and wacky real inventions, like umbrellas for dogs or a hamster wheel that charges phones. Using these ideas for imaginative inspiration, there is also room for young inventors to sketch their own ideas directly into the pages of the book.
---
These books are on the tip of the scientific library's iceberg. After working your way through these inventor kids books, keep reading, growing, and gaining inspiration by checking out 20 of the best science books for kids and computer coding books for children of all ages.
By signing up you agree to our Terms of Service
This article was originally posted on
https://bookriot.com/2019/09/05/childrens-books-about-inventors/
Please take a moment to support Amazing Stories with a one-time or recurring donation via Patreon. We rely on donations to keep the site going, and we need your financial support to continue quality coverage of the science fiction, fantasy, and horror genres as well as supply free stories weekly for your reading pleasure.
https://www.patreon.com/amazingstoriesmag