Something that every game designer must keep in mind is that the players are going to break all your toys.  That's part of being a game player.  Take a look at the wealth of "speed runs" on YouTube sometime and you'll find a whole array of methods by which players jump, skip, glitch through, dodge and otherwise break the game in service of getting to the end the fastest.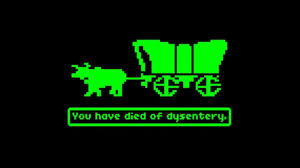 I'm bringing this up because as game players, we will find and exploit every mechanical possible in order to improve our success in a game. It doesn't matter if the game has a win condition or not, what matters is our personal experience, how much satisfaction we derive. The truth of the matter is some of us get as much satisfaction from taking advantage of the game as we do in the objectives that the original game designers laid out for us.
Death as a Mechanic
Not "mechanic" as is the person who repairs your car, but rather in the vein of "deus ex machina". Death as a mechanic in games serves many different uses. It's original use was as a "paywall". A way to get you to pony up another $.25 for another 15 minutes of glory.  Those early games of Pac-Man and Asteroids didn't need to include your death or destruction as a method of losing the game, they included it for the same reason it works in fiction.  Death adds a ticking clock. It adds drama, conflict.  It is the one thing that every single human (gamer or not) is uncomfortable with.
But once a player gets over that feeling that their mortality (in game) is important, death becomes just another tool you can use to win the game.
Mind Games
The various forms of brain-swapping are particular favorite of the cyber punk genre, that idea that the body might be disposable, but the important thing is the mind.  It's in this genre, and it's close siblings, that the idea of death as a game mechanic starts to show purchase.
Although, admittedly, in a very timid form
Richard Morgan introduces us to the concept of "re-sleeving" in his recently-gone-to-Netflix Altered Carbon series of novels.  In essence, every human in this post-singularity world, has a device installed that makes a backup of your mind (similar, in fact, to the identity disks in Tron).  When your body is killed, your mind is downloaded to a new "skin".  They wealthy can afford clones of their original or favorite bodies, so they can wear the same face for millennia.  People without the cash can buy or rent whatever they can get.  The only permanent death is is when your device (referred to as the "stack") is destroyed, which can happen in a variety of ways.
The gaming of this system is given to us as the key plot point.  First, we have the client.  A man who, in order to keep his conscience clear of what may be the only crime he thinks he was avoided committing (murder) blows out his own stack, preventing that evening's download.  When he is re-sleeved from the most recent backup (much like reloading your last saved-game file) everything that happened between the backup and his re-sleeving has been lost.  In terms of videogames, this is one of the most common uses of player death as a tool.  Here as a plot point in a novel, it is a rarity. Essentially it is being used to erase your mistakes and give one a fresh start.
And that may be one of the key differences between death and science-fiction games and death in science fiction novels.  Death in games is rarely permanent (though there are games out there that kill your character permanently), much like reading a Marvel comic. But in science fiction literature, death is an important character motivator, so even in worlds where death is not to be feared, the stakes have to be set high.  There is always a way to die.
Immortality
One of the other key ways death is expressed in both games and literature is the concept of immortality, inability to die what so ever. In games this kind of mechanic is nearly an impossibility. Without the setbacks that going along with the players death (even if it's not "permadeath"), the game very quickly gets boring. In sandbox games like Minecraft, the player never has to die even if they are playing on creative mode. But in those cases, sooner or later, most players start engaging in risky behavior, they knowingly attract or encourage the presence of monsters for no real reason other than the thrill of escaping them.
Science fictional literature, on the other hand, seems to have no real problem with immortal characters.  They reoccur fairly regularly and often start to exhibit the same characteristics as a bored game player (risky behavior, a lack of care, boredom).  Jack Vance starts this trend back in the 50's with "To Live Forever", a novel that points out that being immortal doesn't keep one from making the same kinds of mistakes and have the same kinds of desires as a mortal.  And while Charles Stross' "Neptune's Brood" universe deals with a post-human world, he gives an excellent look into the kinds of mindsets that are possible, and even common, when time-frames stretch into the millennia.
Audience Engagement
We all get attached to our favorite characters, whether they be in literature or in games or television/film.  We are worried when we see our favorites taking on questionable heists, joining a team that wants to blow up the Sun, etc.  We rage when a favorite gets killed off in a series or a show.
Once of the best literary (though not specifically science-fiction) examples of this was the death of Sherlock Holmes, which engendered a public display of mourning and eventually compelled Doyle to bring the character back.  In videogames, we recently had the death of Cade6, one of Destiny/Destiny 2's main narrative characters, which caused quite a stir (and if you don't think video-games can cause an emotional reaction the way literature can, I challenge you to play through the Destiny 2 storyline for Cade6 and not come away weeping).
Character Motivation
Death is the oldest backstory fluffer in the book.  Husband, wife, child, lover, beloved pet, the life of a protagonist in both science fiction games and literature almost always involves a dead someone.  Sometimes it is merely an explanation for what drives the character, sometimes it is much more directly plot related.  The characters goal may be taking on risky tasks in exchange for enough money to revive a deceased loved one. So even while our imagined future societies have made death relevant, the ability for death to motivate us does not diminish. It is hardwired in.
Wrap Up
I have to admit, death as a mechanic, either as a tool for the author/narrative designer to drive the story or as a literal game mechanic is not as prevalent as I would expect to see.  The fact remains that death is one of the prime motivators, both of in terms of plot and of player/reader engagement.  It is something that everyone, who consumes narratives in any fashion, is able to relate to on some level.  As such, I feel that cheapening it is a risk.  Turning it into a common game mechanic, rather than something transgressive that players do *outside* the intent of the original game design, removes it's power as prime motivator.  The same goes for literature.  Once we start seeing "easy" death an rebirth as a casual story mechanic, we lose the ability to add weight to the character's decisions.
This is not to say that death as a mechanic should not be avoided at *all costs*, but rather it should be a carefully considered choice on the part of the author/designer rather than a commonplace occurrence.