Boris Sydiuk, a Ukrainian Science Fiction Fan who has been protesting the Russian invasion  of his country, Ukraine, this past week took The Science Fiction and Fantasy Writers Association (SFWA) to task on both File 770 and Facebook.
We asked for and were granted permission to publish his statement here on Amazing Stories today, but over the weekend, SFWA issued a statement that both condemned the invasion and announced several programs designed to assist Ukrainian SFF authors and fund raise for support efforts.
Boris has responded in a comment  on File 770, saying that the statement "…is toothless and fluffy.", and that more was expected from the organization.
Boris' original statement, SFWA's announcement (which, according to File 770, does not seem to have been released in an official press release at least as of the time of their publication), and Boris's response on File 770 can be found below, including links to the original publication.
Boris Sydiuk's original statement: 
Right now, when I'm sitting at my desktop and writing this text, a cannonade nearby doesn't stop. The previous night was scary in Kyiv. Evidently, Russians are going to start demolishing Ukrainian capital like they are doing with Kharkiv, Sumy, Chernihiv, Mariupol.
The Ukrainian SFF Community joined the efforts to isolate Russia, the nazi-country of the 21st century, to force them to stop the war. The boycott by American authors we asked for is also doing the job. Many leading writers and artists of the great United States already joined the campaign.
We appealed to SFWA to also join the campaign, and here is what they replied:
"The SFWA Board of Directors met this last week to discuss and carefully review your missive. SFWA's mission is to support, advocate for, and educate creators in the science fiction and fantasy genres across the world. We do this regardless of the actions of their governments. Because our mission is tied to our incorporation and status as a charitable organization, we cannot participate or support any kind of boycott."
Can you imagine? They stay aside with popcorn watching how the greatest evil of modern time is trying to destroy a new democratic country, to genocide a European nation, to realize the "Final solution of Ukrainian question".
That is easy to appeal to status, constitution, and so on just to abstain. It is so comfortable — to abstain, sit in a shell thinking the evil will not come. But the evil will come, the evil will knock to your shell and you will abstain when the evil will be killing you. So nice!
Dear American and foreign authors, members of SFWA, do you think the board of SFWA made the right decision? Do you think you are ok to belong to an organization that is so toothless, trying to remain soft and fluffy?
Tonight Russians targeted living houses in Kyiv, they expanded to put on fire as many Ukrainian cities as they can trying to break us, trying to wipe out democracy and freedom, and bring the totalitarianism of 1984 and Animal Farm to our home, and then to yours. Abstaining today means you support the Russians in this way. Sigh.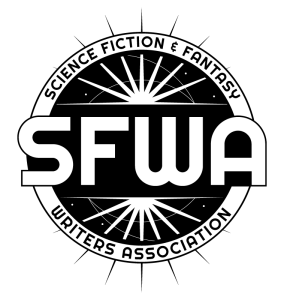 "The Science Fiction and Fantasy Writers of America stand with the people of Ukraine, all creators, and SFF fans around the world who oppose and abhor the actions of Russian President Vladimir Putin. The organization wholly condemns this invasion and oppression which has tragically taken so much from the tireless and brave Ukrainian people. We call on leaders from the international stage to move quickly to end the war. To restore peace and stability. To allow creative freedoms to flourish once again.
In an effort to back these words with concrete actions, the SFWA International Committee,  Board, and staff have been coordinating to determine how our organization can aid Ukranian writers and their genre communities.
We will offer Nebula Conference scholarships and fee waivers for SFWA membership for those affected by the invasion. We are earmarking funds to be set aside in the form of grants in the 2022 and 2023 budgets to help the citizens of Ukraine rebuild their infrastructures such as libraries/literacy programs. For writers who are or may become injured in the war, the emergency medical fund will also be accessible for aid.
In the longer term, the organization is looking at Ukrainian-creator focused projects to generate long-term revenue for these efforts. SFWA will also reach out to sister organizations to see what efforts we can work on together in support of peace and freedom for Ukraine.
SFWA is committed to helping ensure that whatever outcome of the invasion may be, that ideas and creative freedoms remain.
Boris Sydiuk's response:   "In other circumstances, I would say it is a great statement. But today it is toothless and fluffy. We expected a stronger statement with an appeal to SFWA member writers to avoid any contact with Russian publishers. Recently, Exmo Publishers asked not to stop cooperating with them while they continue publishing books titled like "Battlefield Ukraine", "The war in Ukraine" and so on, it was them preparing the Russian public conscience to what is going on today in Ukraine."
***
We agree with Boris that the response was "too little, too late", but we are equally glad to see that SFWA has done the right thing and is attempting to take additional steps, especially considering that numerous other writing organizations made strong statements supporting Ukraine quite some time ago.
Given this event and the on-going upset over the Worldcon being hosted by the Chinese government (announcements that violated one, if not several WSFS requirements related to membership fees were recently published) it is clear that whether or not Science Fiction Fandom wants to keep the mundane world out, the mundane world is now using battering rams and artillery strikes to force its way in.