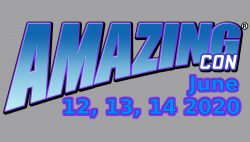 SPECIAL NOTE:  AmazingCon is coming June 12-14, an online convention featuring readings from over 40 authors, writing workshops and discussion panels.  Registration is FREE, but registration is required for attendance.  Details are forthcoming (we're working as fast as we can) and a website devoted to the convention – www.AmazingCon.org – is currently live but is currently a place-holder.  So hang on just a little longer for more details.
OTHER SPECIAL NOTE (and mini-editorial):  As some state Governors – influenced by political agendas rather than facts and science – attempt to return their states to some version of "normalcy" by relaxing lockdown restrictions, it is VERY important to remember that "the economy" does not matter to people who are dead.  Despite whatever your local social distancing regulations may be, please maintain good safety practices.
No, using Nazi symbols and slogans is NOT OK, no matter how impassioned your protest may be
Jeanne Gomoll's TAFF report from 1987 is now available.
13 Year Old wins NASA Essay Contest
Time for a Remake of ST:  The Voyage Home?  Humpback whales are gathering in unprecedented numbers
Read the latest issue of Surprising Stories
Review of Asimov's Before the Golden Age 
1935 Buck Rogers Space Helmet at Vintage Space Toys
Dragon Capsule passes final parachute test
RETURN TO MANNED SPACE FLIGHT 4:32 p.m. EDT Wednesday, May 27 – details on NASA's coverage of pre-launch and launch
Dragon's Lair has your plushies, and your T-shirts too
Read Issue 540 of the British Columbia SF Association's clubzine
Octavia's Brood: Science Fiction Stories from Social Justice Movements Kindle edition now only $2.99
Kim Stanley Robinson predicts the future of society
Read the latest issue of "As Thingy as a Very Thingy Thing" can be – Ansible