CoNewZealand, the 78th Worldcon just announced that it will be hosting the Retro Hugo Awards for 1945.
For Amazing Stories, 1945 was a watershed year, as it was the year that Raymond A. Palmer (RAP) introduced the world to Richard Shaver and his "mysteries";  or perhaps he introduced Richard Shaver to the world….  Palmer's embrace of these lunatic ravings presented as factual fiction brought both fame and infamy to the magazine – fame as the magazine's circulation jumped to unprecedented heights as it's pseudo-scientific offerings found an entirely new audience;  infamy as the science fiction community rejected such flirtations and considered this an affront to its quest for legitimacy.  (Palmer would go on to engage with sensationalist pseudo-scientific subjects, helping to launch the UFO craze and publishing paranormal-related fare;  those sold better than Science Fiction.)
(There is a lot of speculation that Palmer fictionalized the lengthy letters Shaver submitted as accounts of reality that only he was privy to;  to this day there are still devotees of the belief system created by Shaver, and some of it may have found its way into Scientology's mythical system.)
No doubt, Palmer will once again be nominated for Best Editor and, of course, there will be fiction categories for Short Story, Novelette and Novella (Novel too but that doesn't apply to magazine fiction in this case).  Best Artist as well.
In addition, Amazing Stories was accompanied on the stands by a title that would eventually morph into Fantastic Stories – Fantastic Adventures.  FA had five issue in 1945.
In the art category – all four Amazing Stories covers and the January 1945 Fantastic Adventures covers are by Robert Gibson Jones.  Samples, samples R. E. Epperly produced the April 1945 cover, Arnold Kohn the July cover, the October cover by J. Allen St. John and the December cover by Paul Lehman.
AMAZING STORIES 1945
Published by Ziff-Davis
Edited by Raymond A. Palmer
Pulp Format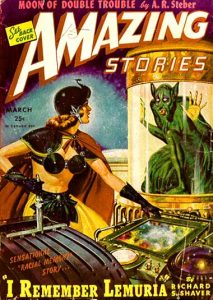 March 1945
"I Remember Lemuria!" • [Mutan Mion] • novella by Richard S. Shaver
The Martian's Masterpiece • short story by Raymond A. Palmer [as by Morris J. Steele]
Moon of Double Trouble • novelette by Raymond A. Palmer [as by A. R. Steber]
Is This the Night? • short story by Leroy Yerxa [as by Alexander Blade]
Comet from Yesterday • novelette by Leroy Yerxa [as by Lee Francis]
The Lying Lie Detector • novelette by Leroy Yerxa
Valley of Delirium • novelette by unknown [as by Richard Casey]
Twirl My Turbine, Man Alive! • short story by Omar Geer
Dr. MacDonough's Encephalosemanticommunicator • short story by Leo A. Schmidt
June 1945
Thought Records of Lemuria • novella by Richard S. Shaver
Weep No More, My Robot • short story by Chester S. Geier
Invaders from the Monster World • novelette by Edmond Hamilton
The Radiant Rock • novelette by Frances M. Deegan
The Scarlet Swordsmen • novelette by Don Wilcox
Peril from the Outlands • short story by William L. Hamling [as by William Lawrence Hamling]
I'll Be Fleeced • novelette by Berkeley Livingston
September 1945
Cave City of Hel • novelette by Richard S. Shaver
The Animated Tenpin • short story by William L. Hamling [as by William Lawrence Hamling]
The Voice from Venus • novelette by Don Wilcox
Cursed Cavern of Ra • novelette by Leroy Yerxa [as by Lee Francis]
Something for Herbert • short story by Frances M. Deegan
Mysterious Crater • novelette by Leroy Yerxa
Two Worlds to Conquer • novelette by Leroy Yerxa [as by Elroy Arno]
Don't Look Behind You • short story by unknown [as by Richard Casey]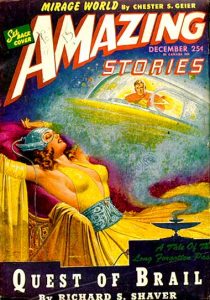 December 1945
Quest of Brail • novella by Richard S. Shaver
Planet of the Duplicates • short story by William L. Hamling [as by William Lawrence Hamling]
Mirage World • novelette by Chester S. Geier
The Miracle of Bulldozer Mike • short story by Robert Moore Williams
Me and My Shadow • novelette by Berkeley Livingston
Let Freedom Ring! • novelette by Rog Phillips
Gallery of Glacial Doom • short story by Frances M. Deegan
FANTASTIC ADVENTURES 1945
Published by Ziff-Davis
Edited by Raymond A. Palmer
Pulp Format
January 1945
The Devil's Pigs • short story by Don Wilcox
Invasion of the Raindrops • novelette by unknown [as by Edwin Benson]
A Japanese Fantasy • essay by C. S. Rice
The Shackled Statue • short story by Berkeley Livingston
A Nutty Fantasy • essay by Gale Stevens
Freddie Funk's Forest Forge • [Freddie Funk] • short story by Leroy Yerxa
The Observer • short story by Robert Moore Williams
A Year from Tonight • short story by Dorothy Quick
Another "Fantasy Drug" Victory • essay by Lee Owen [as by Lee Owens]
Fantastic Facts (Fantastic Adventures, January 1945) • essay by Lee Owen [as by Lee Owens]
The Cannonball Road • short story by Wallace West
Farming Fish • essay by J. Nelson
Taggart's Terrible Turban • novelette by Don Wilcox
Vignettes of Famous Scientists: Huxley • [Vignettes of Famous Scientists] • essay by unknown [as by Alexander Blade]
Refugee Trees • essay by J. Nelson
The Miracle of Dr. Beaujean • short story by Curtis Pechtel
April 1945
Forever Is Too Long • novella by Chester S. Geier
Descent from the Clouds • essay by June Lurie
You Can't Scare Me! • novelette by Charles F. Myers
Snakes Don't Bite • essay by Pete Bogg [as by R. Clayton]
Not as Plotted • short story by Chester S. Geier [as by Guy Archette]
The Tale of a Bird • essay by Gary Lee Horton
Little Giant • essay by Charles Reeves
Hickson's Strange Adventure • short story by Robert Moore Williams [as by E. K. Jarvis]
Supernatural Wonderment • essay by Pete Bogg
Vignettes of Famous Scientists: Haeckel • [Vignettes of Famous Scientists] • essay by unknown [as by Alexander Blade]
Man of Two Worlds • novelette by Robert Moore Williams
Romance of the Elements • essay by Gordon MacLean
The Princess and Her Pig • short story by Richard S. Shaver
July 1945
The Editor's Notebook (Fantastic Adventures, May 1947) • essay by The Editor
The Tale of the Red Dwarf Who Writes With His Tail • novella by Richard S. Shaver [as by The Red Dwarf]
Meet My Mummy • novelette by Leroy Yerxa [as by Elroy Arno]
The Man Who Mapped the Brain • essay by Gary Lee Horton
Painting of the Prophet • short story by David Wright O'Brien
The Luck That Failed • essay by Pete Bogg
Romance of the Elements — Hafnium • [Romance of the Elements] • essay by Rod Ruth
When the Spirit Moves Me • short story by Leroy Yerxa [as by Lee Francis]
Flight Against Time • essay by H. R. Stanton
Human Electricity • essay by Jerry Walsh
Tomorrow and Tomorrow • short story by Ray Bradbury
The Pirate Barbarossa • essay by June Lurie
The Emperor's Eye • novelette by Leroy Yerxa
Out of Any War • essay by unknown [as by Alexander Blade]
The Green Tower • essay by Sandy Miller
Shades of Henry Morgan • novelette by H. B. Hickey
October 1945
The Editors Notebook (Fantastic Adventures, October 1945) • [The Editor's Notebook (Fantastic Adventures)] • essay by Raymond A. Palmer
King of the Dinosaurs (Complete Novel) • [Toka] • serial by Raymond A. Palmer [as by J. W. Pelkie]
Through a Dead Man's Eyes • short story by Robert W. Krepps [as by Geoff St. Reynard]
Science Conquers Age – In Concrete! • essay by Carter T. Wainwright
Bag and Baggage • short story by William L. Hamling [as by William Lawrence Hamling]
Hysteria or Blindness? • essay by A. Morris
Fingerprints of Fear • short story by unknown [as by Richard Casey]
Vignettes of Famous Scientists: Brahe • [Vignettes of Famous Scientists] • essay by unknown [as by Alexander Blade]
Dummy of Death • novelette by Leroy Yerxa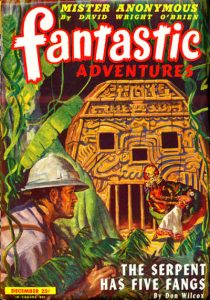 December 1945
Meet the Authors: Chester S. Geier • (1943) • essay by Chester S. Geier
The Editors Notebook (Fantastic Adventures, December 1945) • [The Editor's Notebook (Fantastic Adventures)] • essay by Raymond A. Palmer
The Serpent Has Five Fangs • novelette by Don Wilcox
Hints of Cooking Enjoyment • essay by The Editors
Jewel of Death • short story by Chester S. Geier
Second Childhood for Oil Wells • essay by Billy Decker
Woman's Island • novella by Don Wilcox [as by Miles Shelton]
Fantastic Facts About the Bee • essay by Pete Bogg [as by R. Clayton]
Romance of the Elements: Titanium • [Romance of the Elements] • essay by Gordon MacLean and Rod Ruth
The Sapphire Enchantress • novelette by Don Wilcox [as by Cleo Eldon]
A Monk's Dream • essay by W. N. Hansen
Vignettes of Famous Scientists: Torricelli • [Vignettes of Famous Scientists] • essay by unknown [as by Alexander Blade]
Mister Anonymous • novelette by David Wright O'Brien
Wink Van Ripple • short story by Robert W. Krepps [as by Geoff St. Reynard]
The Gadgeteer Era • essay by Lynn Standish
A Problem in Lumbering • short story by William L. Hamling [as by William Lawrence Hamling]
The Story Escapes Me • short story by Leroy Yerxa
Tears for the Crocodile • short story by Leroy Yerxa [as by Lee Francis]